The Revolutionary War Military Record of William Davis of Three Mile Creek of Avery County, North Carolina, by William Michael Davis © 2007
$22.00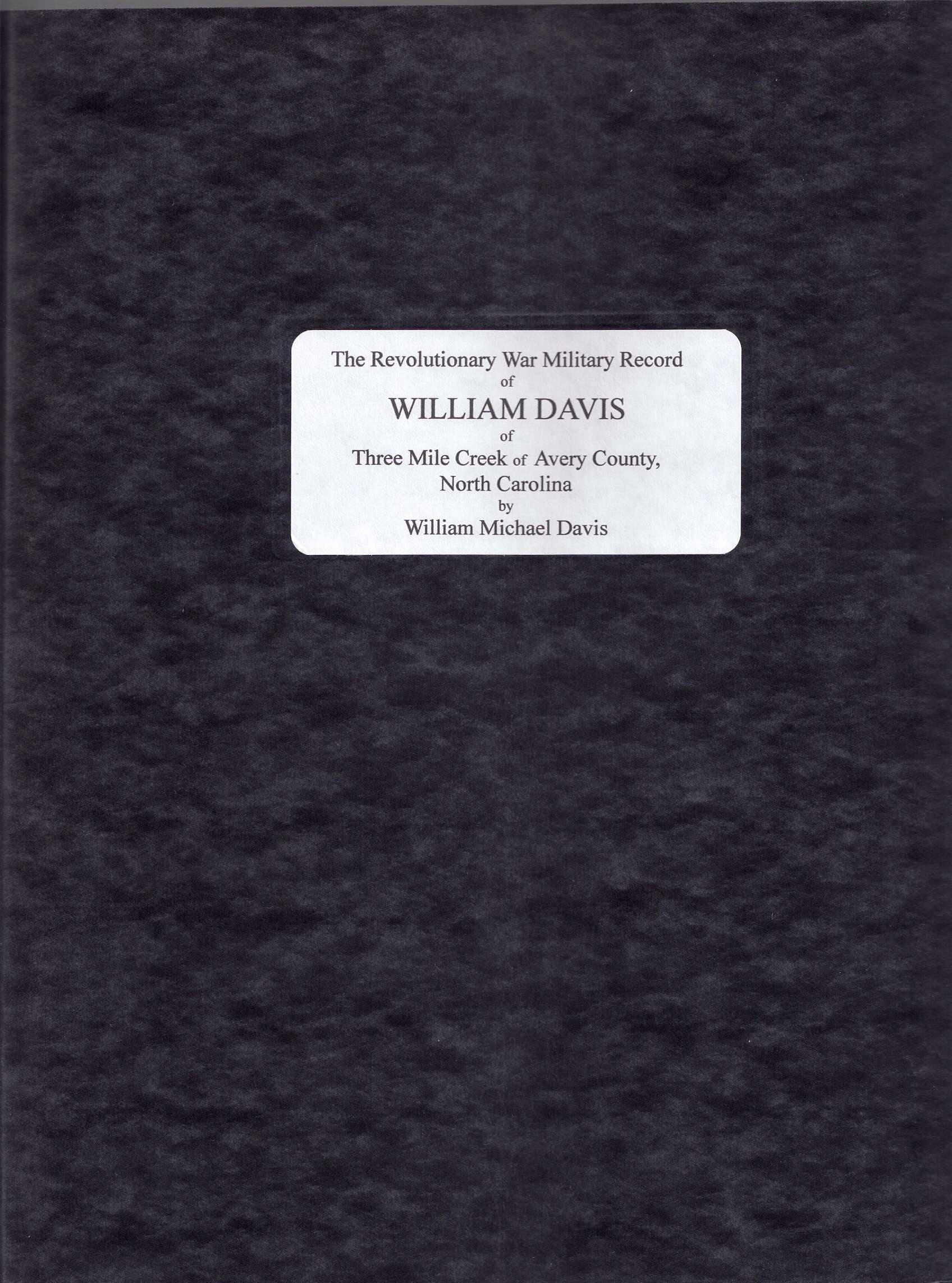 William Davis (c1730-1841) was a well known pioneer in Toe River Valley Region of Western North Carolina. He and his wife Frances Carpenter raised a large family and have innumerable descendants today. Old Billy was a soldier during the French and Indian War as well as the American Revolutionary War. His activities during the wars has heretofore been based solely on sketchy family tradition and some very faulty early research by persons unknown. Author Mike Davis corrects this problem.
Mr. Davis has diligently researched the available records for the French and Indian War and the Revolution in order to determine what our ancestor William Davis really did during those conflicts. His findings have proven that the Family Tradition is mostly correct, but that the previously published research regarding William Davis' war record is incorrect. As you may know, William Davis has a very nice monument on his grave that lists him as a Corporal in 2nd North Carolina Regiment - 1778-1781. This was put there at some point between 1915 and 1931 by the DAR or some other group. Mike has proven that this information is wrong. There was indeed a Cpl William Davis in Hall's, but he is not the same person. No one knows who first decided that the man in Hall's was ours, but they were mistaken. Obviously there were numerous men named "William Davis" who served during the Revolution from North Carolina and Virginia, but based on the Family Tradition and the facts we already knew to be true about old Billy, Mike has pieced together the correct military record for our William.
I have read this book and I find it to be extremely well done and a very worthy item to own. It seems now that our ancestor William Davis has come to life and told us the true story about his military service. I highly recommend this book to any and all descendants of William Davis, and to anyone interested in the Toe River Valley history. For those of you looking for genealogy, this book does not contain much on that subject, it is almost strictly a military history, but a fascinating one indeed. (See my William Davis web pages for genealogical information.)
The author is a 4th Great Grandson of William Davis and Frances Carpenter, descended through their son John Davis.
Physical Details:

Edition: First Edition (2007)

Binding: Heavy Stock Report Cover, 3 hole punch

Pages: 37

Size: 8.5 x 11 in

Note, if your local library doesn't have a copy and you think they'd benefit from it, please buy them one!
To Order via Snail-Mail:
Send check or money order for $22.00 ($17.00 for the book and $5.00 for s/h) to:

William M. Davis, 45 Greenlea Circle, Taylorsville, NC 28681