Marty and Karla Grant
[Home] [What's New?] [Books for Sale] [Christian] [Genealogy] [Search] [Support] [About] [Contact]
The Miller Families of Ashe County, NC, by Danny L. Miller © 1988 (Free!)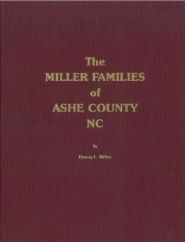 Ashe County, North Carolina was formed in 1799 from Wilkes County. A large number of Miller families lived there in various parts of the county. The author has documented those families and found a great deal of information on most of them. He first published the book in 1979 and did a second edition in 1988. The book has long been out of print though it is still much in demand. The author gave permission for us to make the book available as long as it was not for profit. Sharon Miller painstakingly scanned each page of the book and gave the final results to me in order to make it available to anyone who was interested. The scanned images were large so we initially divided the book up in more manageable pieces, each about 30 pages long. However, since large size files are no longer a problem for most people to download, I have combined the Miller book into one PDF.
Click on the link below to view the PDF online. Or, Right click on the link to save the PDF to your computer. It's 306mb in size, so that may take awhile to download depending on your Internet speed.
The Miller Families of Ashe County NC by Danny L. Miller, 2nd Edition, 1988.
Printed copies of the book are not available unless you get lucky and find a used one for sale somewhere.
Physical Details:
Edition: Second (1988), originally published 1979
Binding: PDF ("e-book")
Pages: 591
Size: 6 x 9 in.
ISBN: none
Library of Congress Control Number: 43013720
Click here to find this book in a library near you.
Click here to find copies of the the 1979 edition.
Revised: August 28, 2023
Copyright © 1996-2021 Marvin A. Grant, Jr. All Rights Reserved.
[Home] [What's New?] [Books for Sale] [Christian] [Genealogy] [Search] [Support] [About] [Contact]